CHAPMAN SOLICITORS are expert Criminal Defence and Road Traffic Lawyers based in Inverness. Our specialist team was located in Glasgow for many years and has worked in courts across Scotland.
Whatever crime you have been accused of, it is vital that you receive expert legal advice from the outset. Each lawyer in our firm has decades of experience in criminal law from the meticulous preparation of cases through their presentation in court to instructing appeals against conviction and/or sentence. We can provide advice and assistance at the earliest stages, from your first contact with the police and prior to police interview. We can even be present with you while you are interviewed.

As a result of our team's vast expertise and experience you can rest assured that your case will always be in safe and highly experienced hands and will never be under the control of a trainee or an inexperienced lawyer.

At Chapman Solicitors you can be sure that your defence will be prepared with scrupulous attention to detail. Our solicitors are highly recommended by our clients, as can be seen in the "What Our Clients Say" section of this web site.

We undertake work for: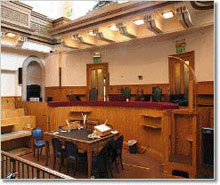 Clients who qualify for Legal Aid

We can advise you on whether or not you qualify for Legal Aid. Even if you are in full-time employment you may still be eligible for Legal Aid. Contact us to find out.

Private Clients

For private clients our fee is agreed in advance with no hidden costs. You will always know what our fee for your defence will be.


FREE INITIAL CONSULTATION